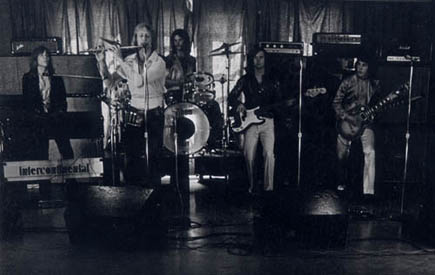 Curt, Sandy, Peter (drums), Reber, Mark
| | | |
| --- | --- | --- |
| | | |
| Curt, Sandy, Peter (drums), Reber, Mark | | Curt, Sandy, Peter (drums), Reber, Mark |
| | | |
| Reber, Peter, Mark | | Rock n Roll Tea at the Pi House |
| | | |
the early days...


Sandy Kraker - Vocals, harmonica & flute
Reber Carroll - Bass & vocals
Peter Phillips - Drums (original incarnation) / Tom Garr - Drums (2nd incarnation)
Curt Bolack - Keyboards & vocals (original incarnation) / John Spahr - Keyboards (2nd incarnation)
Mark - Guitar & vocals
Based in Ithaca, NY,
This band toured the tri-state club & college circuit from 1972 - 1975.
They played 317 shows, two to three sets a night.
"We played every club and college from Watertown to East Hampton".
The original band (with both drummers; Peter & Tom) reunited for two more shows; the first reunion was on October 4th 2003, the second on October 14th, 2006 both at Sigma Pi Fraternity,
Cornell University, Ithaca, New York.