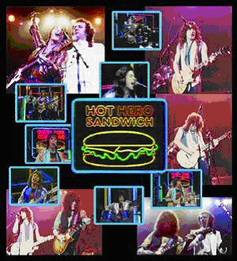 In 1979, Bruce & Carole Hart, Director/Producer team cast Mark and his band in a NBC-TV Series called "Hot Hero Sandwich". Together with Producer Felix Pappalardi (of Mountain, Cream fame) they wrote, played and recorded the musical soundtrack for the TV series which aired on NBC during the 1979/80 season. The band also performed on camera as the "Hot Hero Band" for each one of the shows episodes. Mark, during his tenure there also teamed up with Steven Stills recording and performing two songs Love the One You're With & Sugar Babe for the show as well. The collaborative efforts of all involved resulted in the TV series winning an Emmy Award.
"Hot Hero Sandwich, was a great experience for all. We (the band) loved Bruce and Carole Hart, (director/producer creator team) considering what it takes to make something like this happen, they were great, they made it fun!"
"Felix was inspirational, he was the real deal. He was one of the boys (we considered him to be the fifth member of the band) and at the same time the producer extraordinaire. He did everything with so much feeling, so much soul that you could not help but be moved by what he wrote. Whenever you heard or played something he wrote, it connected with you and would resonate within you. As much fun as we had playing on camera, the center of our attention was the music. Felix was a heavyweight, Cream and Mountain were both heavy hitters, not to mention his classical background, so we took the music very seriously. We focused on the writing and recording. Musically speaking, we are proud of those sessions and what we did together."
The show was filmed up in studio 8-H at NBC Studios in Rockefeller Center in NY. (Same studio as Saturday Night Live). All share fond memories of a wonderful experience.